IV. School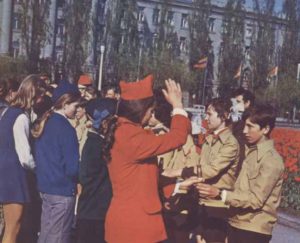 When children from Catholic families went to school they were forced to renounce their faith. Starting in 1930 pupils-zovteniata promised to not to go to church and were obligated to wear a pin with a picture of little Lenin in it. Later they became pioneers, wore the red tie and promised to engage in spreading the ideas of communism. In school children who were religious were often persecuted. They were called to answer questions more, almost every day. The purpose of it was to show that a Catholic child is stupid, and that religion is ignorance. They were taught in school that the word "catholic" come from the Ukrainian or Russian word "kat," meaning executioner or killer. Communists convinced many of people that the word "catholic" meant something worse than Nazi, and therefore they were saying it with irony and disrespect.
Children were receiving low grades, even when they were talented and knew the material, or they were receiving no marks at all, proving that the faithful are "stupid".
Almost every Sunday, principals and school teachers watched the entrance into the church, in order to send children home; they wrote down the names of those who went into the church, in order to humiliate them the next day during the regular school session; the children were looked upon as betrayers of Motherland. When teachers saw that children wearing a cross, the children were forced to take it off. They spit on it, stepped on it and threw into the toilet. They cut out hair in the shape of the cross on the heads of children who were going to church and then they spit on it. Even the curriculum had a goal of directing youth against religion. For example, biology teachers in the 70s taught that "Contagious diseases before the revolution were spread through the religious traditions: many children during baptism were infected with dysentery and infectious skin diseases, or they caught cold and then had pneumonia. One of the sources for infections was the Holy Communion […]; the tradition of kissing the cross and icons was considered one of the biggest sources of infections; only after the communist regime was established in our country, the number of diseases went down"[i].
[i]Ботаника, Москва 1974, с. 205.