V. Priests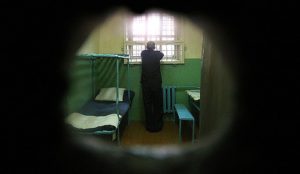 From the beginning of the revolution until the last days of the Bolsheviks' occupation of Ukraine priests were the center of apostolic loyalty, very often devoting their lives to giving people the Holy Sacraments. Catholics had to secretly baptize their children, marry, confess, receive Christian funerals. Normal life became impossible in the family; there was no freedom of speech, it was also impossible to have Mass in the chapel. Church went "underground" in the country where even being Catholic was a crime. Despite persecution, priests didn't stop giving the Holy Sacraments to people; they were very generous and were giving them to people wherever they could: at the cemetery, in chapels, churches, private houses. Very often people had to stay an extra day, because there were so many people, that the priest just didn't have the time to baptize everyone in one day.
We know about the results of this hard work from the historical documents. Father Aloiz Shonfeld was the Father Superior in Simferopol, Odesa and later in Zinoviysk. Later, when the church was closed, he said the Mass in his room. In 1924 he was accused of organizing anti-communist nationalistic group, using his pulpit as an item of propaganda, organizing protests against the Soviet government and collecting money to help those who were persecuted[i].
Father Boleslav Zilinskyi from the Lutsk-Zytomyr diocese was condemned to the death on August 6, 1926. The news of this caused his Father to die of a heart attack. The condemned prisoner was kept in the camp in Solovky for 4 moths. On July 21, 1930, he ran away from Arhangelskyi camp, where there were 2800 Prisoners. After a week of running during which he was almost shot few times, he finally arrived to Poland. Describing his life in the USSR, in one of the Polish newspapers he wrote that he was condemned because he was doing his work in 4 parishes where there were Catholic youth, baptizing ill children before their birth was registered, and organizing an asylum for fellow priests.
The life of priests was under extreme control: listening devices were installed in churches and other buildings. In order to avoid being recorded, they preached in the middle of the church or from the pulpit. Some of the priests were not allowed to travel inside the USSR. But despite all this, faithful, priests, monks and nuns never lost optimism. Faith was helping them with it.
Father Jan Szetela remembers how in July of 1944 Nove Misto was occupied by the Red Army: "I could have gone to Poland, but as a young priest, I wanted to stay in order to be with Poles and Ukrainians, who didn't want to convert to Orthodox Christianity". It wasn't an easy decision, but what helped him make it were the wishes of people: "Father, if you leave, we won't have a priest or a church, because it will be closed". On 11 August 1950 Father Jan was arrested by NKVD and deported to the concentration camp in Karaganda. Being a prisoner like everybody else, he could also be a pastor to others, although very often during holidays he was locked in the isolation cell.
After obtaining freedom, a friend who was in prison with him wrote: "I hope these words will come to you, as an expression of honor to your work that is harder than work of missionaries in the wild countries, but also more necessary. How understandable are the words of Jesus: "I am the good shepherd"… One has to have a really strong faith in order not only to live for him or herself, but be a good pilgrim for others".[i]
Upon returning from a concentration camp in 1953, Father Bronislav Miretskyi was not given permission for his pastoral work for 15 years. His relatives insisted that he would come back to Poland but he said "no" twice. He decided to stay because of his solidarity with his friends and because of love to his parish: "For many years and until now they helped me materially, supporting my hope that one day I will be able to work with them and for them. I belong to them and I don't have the right to look for my own benefit or to look for working in other places … They feel it with their hearts! Do I have to leave them, who already were tested by God? No!"[ii]
Father Anthony Chomicki assisted by sending many packages to prisoners in the concentration camps. Priests Bronislaw Dzepecki, Joseph Kuczynski, Andrew Hladysevych and many others survived because of those food packages. To help the brothers, he did not spare himself, remembering the words of Father Bukowinski: " We are the priests of Jesus Christ! Christ did not spare himself – said Apostle Paul. We are ordained not to spare ourselves if there is a need to give our lives for the sheep of Christ."[i] Father Stanislav Frankl, rector of the seminary in Lviv, added: "It is better to be a light within a small period of time than to be a smoke for a lifetime."[ii] Father Bukowinski recalls how in 1951, in one camp he was preparing one of his countrymen for the First Confession and taught him until midnight. Going back to his hut, he unexpectedly met a patrol. The first officer asked him, "Why do you, priest, wander around camp during the night?" – And hit him in the face. "Now go away." "I did not turn the other cheek, as the Gospel tells us! I returned from the barracks very sad. After a few minutes I thought this was a patrol duty immediately to arrest me, but the officers only punished me. From their side, it was an act of humanity. Indeed, this incident could be considered anti-Soviet propaganda. You can talk about the heroic Catholic priest that extraordinarily performed his duty: he was attacked and hit. But didn't I get compassion and sympathy at that moment? Yes, when they hit me, it was not an insult, but help. I was not angry with these people who, despite everything, showed me their good heart."[iii]
Because there only were a few priests, they had to constantly travel to those parishes that had no pastoral care for a long time. These short visits had immense value to the people who no longer felt lonely and abandoned. Father Wilk OFM Cap wrote: "The mission in rural and urban areas has convinced me that people still believe, sing religious songs and want to have a priest nearby. But there is only one of me and there are many of places that are far from each other."[iv] Another priest, Father Michael Zhukovsky very often secretly said Holy Mass and preached the word of God in the forest. One of the parishioners from Bar talks about it in her letter:
"Father Zhukovsky did not stay long with us he was here only from 1944 to 1946. I remember him as a noble priest who worked hard. He went to all parishes. Once I went with him to the village from which I come. He said the Holy Mass in the parish, and then went to do confessions for the ill in the nearby villages. On Sunday evening, he baptized around 300 children and fainted from exhaustion. Father was a good preacher and confessor for our youth. He always encouraged people not to drink any vodka, wine or beer or smoke because all of these injure the health of body and soul.
He was gracious to the ill. Loved children, taught them Catechism, prepared them for the Holy Communion. Gave icons. Gave the little books of prayers and Rosaries to adults. When he was leaving us in May of 1946, the people cried and asked: "When will we see you?" Father replied: "In heaven." He had tears in his eyes."[v]
In the parish of Polonne, Father Anthony Chomicki performed 13,219 baptisms, 1579 marriages, 1563 confirmations between 1947 and 1954. Due to the lack of priests he also traveled to other parishes, often quite distant from one another. Usually, government tolerated such pastoral "visits", giving permission to perform religious functions for three or four days, but the transition beyond the permitted boundaries, could put him under the risk of arrest or conviction. Father himself told what happened to him in the parish in Bar. He received a permission to have a pastoral service for three days. When people found out about his arrival, very many of them came. The priest was confessing people, leading the Eucharist, preaching, baptized more than a hundred people, and blessed about ten marriages without any rest during day or night. On the third day, returning from church to dinner, he fell on the ground and fell asleep. People found him and said: "Father, you are forbidden to sleep you only have a few hours left, and many people are still waiting for you." "On my request – told Father Chomicki – they poured cold water on my head, I quickly ate soup and returned to the temple to people, to work"[vi].
Nina Matviyets recalls one similar incident in the parish in Shargorod "Father Wysokinski was given a permission to come to us for three days. I remember how I brought a pillow so he would be able to rest for an hour at the altar and then return to the confessional"[vii].
Father G. Wilk, who was released after the death of Stalin, asked for Soviet citizenship, and in the first half of 1956 performed pastoral ministry in 48 towns and villages in Podolia, where there were no churches: baptized 63 children, confessed 921 ill and blessed 266 graves. Throughout the year, he performed these services in 105 towns and villages, where he baptized 144 children, confessed 1866 ill, gave the sacraments to the 398 ill, performed 29 funerals and blessed 1002 graves. Father Andrew Hladysevych in a parish inVinnytsia in 1957 has performed 314 baptisms, 45 marriages and confessed 3600 faithful[viii].
The presence of priests had a significant impact on the religious life of the parish. For example, in Bar, when in the 60s there was lack of priests, only 10-20 people were coming to the temple, and the church was open only three times a week. On Sundays and holidays the number of faithful grew to 100-150 people. When the priest was coming, the number of faithful especially grew: more than 2000 faithful on Sundays.
"Nobody wanted to believe us: nobody hoped that one day we would be able to have a priest among us – it looked like a miracle. He blessed the water for us, and then graves of our deceased relatives. Christians that were deported here hadn't seen a priest for 20 years, and so on that day both mothers and children were baptized!"[ix].
When the Soviet authorities were limiting pastoral activities more and more, priests were secretly giving out sacraments. For example, Father Anthony Chomicki in a parish in Deraznia, Khmelnytsky region, on 21-22 July 1953 baptized over 400 people, and at Grechany in Khmelnytsky on the 28, 505 people. People who had not seen a priest for many years, heard that the priest is coming to the certain parish, were coming there with their entire families so they would be able to get sacraments. They were coming not only from Ukraine, but also from Kazakhstan, Siberia, Russia and Belarus. During that time Father Anthony was the only working priest in the region. Although he was fatigued, he felt happy because the Church lived and triumphed in human souls. Documents show that in Polonne during 1947-1954 years he baptized 5915 people. From the parish Father Anthony traveled to the regions of Khmelnytsky and Kamianets – Podilskyi, where he baptized more than 3315 individuals and blessed 568 marriages. Transferred to Murafa, in 1957, he baptized 3989 catechumens, blessed 1011 marriages and gave the sacrament of Confirmation to 1563 persons. Documents prove that altogether he baptized 13219 people and blessed 1579 marriages. Who can say how many sacraments in total did Father Anthony give in parishes in Sharhorod, Bar, Vinnytsia, Luchynets, Snitkiv, Verbovets, Kopaigorod, Chechelnik, Molchany, smt. Chernivtsi and many others? There also were sacraments that were not registered, because people are asked not to register them, fearing to impair their social status or lose their jobs. Who could count how many faithful Father confessed?
"Father Anthony was often at the altar with a fever so that he did not leave people on a Sunday or holiday without the Holy Mass. I myself saw how many times sitting up with tremendous effort Father was leading the Eucharist, and the organist was distributing Holy Communion because the priest could not move. Father Anthony did not work for his glory, but for the glory of God and because of his love of the people, because he knew – no other priest would be able to work for him, "- remembers Anna Sweda.
In areas near Murafa where Father Chomicki had a permanent place in 1957, about 78,500 faithful visited the church: 18850 came to confess, 366 were baptized and 90 couples were married according to Christian tradition. In 1958, there were about 74,500 people who received the sacraments, including 8960 confessions, 166 baptisms and 21 marriages. In 1959, those who received sacraments numbered about 84,000. That year was about 12040 confessions, 242 baptisms and 68 marriages. These estimates do not include the faithful of the churches to which a priest came a few times a year. Despite persecution in areas of the Vinnitsa region in 1963, 15946 people (48.8% of which were newborns) received baptism[x]. In fact, forty years of Catholic history has been distorted by atheistic propaganda, continuing until 1991.
[i] A. HLEBOWICZ, Kościoł w niewoli. Kościół rzymskokatolicki na Białorusi i Ukrainie po II wojnie światowej, Warszawa 1991, c. 100.
[ii] W. BUKOWINSKI, Spotkałem człowieka, op. cit., cc. 128-129.
[iii] Kresowi Księża harcerze od Kamieńca Podolskiego do Nowogródka. Kościół rzymskokatolicki na kresowych ziemiach polskich, Red. H. Dąbkowski, Warszawa 1929, с. 47.
[iv] L. S. SOSZKA, Ks. Antoni Chomicki "Patriarcha Ukrainy", Krakow 1993, ms, с. 2.
[v] О. ІВАНОВА, «"Люди ви вистояли!" Спогади Яніни Харритонівни Матвієць», in "Парафіяльна газета". Тижневик католицьких парафій України 50 (1995) 2.
[vi] J. SZYMAŃSKI, Kościół katolicki w obwodzie winnickim na Podolu w latach 1941-1964. Praca doktorska napisana w Instytucie Historii Kościoła Katolickiego Uniwersyetu Lubelskiego pod kierunkiem ks. Prof. Dra hab. Zygmunta Zielińskiego, Lublin 2002, с. 310.
[vii] A. FASOLINO, (a cura di), Croce e risurrezione nell'URSS, documenti sulla passione della Chiesa nell'URSS, Pessano 1979, cc. 57-58.